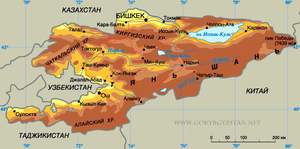 Grade of difficulty: easy
Season: 15st of July - 30st of August
Group: 4 people plus Wild Russia tour leader and support team: English-speaking mountain guide, 2 porters for the food and camping equipment, driver.
Land cost: 4 pax - $2125
Land cost: 6 pax - $1960
Land cost: 8 pax - $1875
Weather:: from + 20 Ñ to -10 Ñ.
Transport: minivan.
Altitude: the trek starts at 2100m and finishes at 4000m.
The price includes: border area permit, all transfers according to the itinerary, 2 nights in Bishkek 4* hotel, 2 nights in Kara-Kol 3* hotel, helicopter flight from the Base camp, rest at the Issyk-Kul in privat 3* resort, FB during the trek, tent and exquipment rent, sattelite phone, GPS navigator and radios for the group, local guides and Wil Russia tour leader.
Note: the porters carry the group equipment only. Porters for the privat equipment are available at the extra charge.

Domestic flight airfare; Over luggage if any; Personal expenses; Tips; Medical insurance are not included.


Bishkek - Boom Gorge - Issyk-Kul lake - Kara-Kol town - Turgen-Aksu gorge - Chon-Ashu pass - Sary-Jas river - At-Jailoo gorge - Nansen peak - Inylchek glaiser - Mertsbakher field - Mertsbakher mountain lake - Komsomol glasier - Wild glasier - Star glasier - Base camp - Khan-Tengri peak - Pobedy peak - helicopter flight over the Inylchek glasier - Cholpon-Ata resort - Balykchi town - Bishkek
This itinerary allows you to see all the beauties of the Northern Tien-Shan, from the hot Chuya Valley with Bishkek city to the feet of the grand mountains covered in enernal snow. You'll see the blue waters of the mountain Issyk-Kul lake, second biggest in the world by the size of the water surface. You'll admire the icebergs on the surface of the Mertsbakher lake on the altitude of 3000 m and the fast waters of the Sary-Jas river.
You'll have the chance to taste the variety of the local cusine dishes and enjoy the friendly company of our experienced guides and porters will entertain you all along the way.
14 days, 13 nights