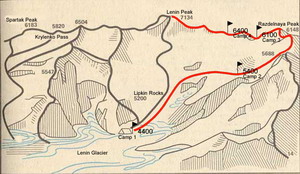 Grade of difficulty: IFAS PD+/AD (NCCS IV; RUS 5A; IV/AI1(45-50°); 3500m)
Season: 5th - 31st of August
Group: 10 pax
Land cost: $ 3720 per pax in a group of 10.
The economy program with the basic services is available as well.
Guides: local support team and Wild Russia tour leader

The price includes: Border pass, Accommodation in hotels B&B: 2 nights in Bishkek 4*, 2 nights in Osh 3*; Round trip flight Bishkek-Osh-Bishkek; all transfers according to the itinerary; tent accommodation on the double occupancy basis, FB; special services in the base camp: lockers, sauna, 220V generator, personal gear portage base camp to camp 1 and back (the portage up to the camp 4 is available at the extra charge, it has to be requested in advance); special services in the camps 2,3 and 4: preset camp site, high altitude food, gas stoves and gas supply, high altitude kitchen utensils; high altitude emergency kit in the camp 4; qualified mountain guides on the 1:2 baisis; Resque team; radio and GPRS for the group; Wild Russia tour leader.

Domestic flight airfare; luggage overweight if any; Personal expenses; Tips; Medical insurance are not included.
The climbing medical insurance with the coverage of $50 000 plus for each group member is mandatory.
This is a special all-inclusive itinerary designed for those who would like to focus on the ascent and do not worry about the logistics problems.
Of the four peaks in the former Soviet Union which are over 7000m high three lie in the Pamir Highlands of Central Asia. The same Pamir itself refers to the great valleys that divide the various mountain chains. Peak Lenin, at 7134m, is the third highest; the second highest, Pik Pobeda, lies nearby in Tien Shan. Peak Lenin is located in the northernmost of the High Pamir mountain chains - the Zaalayski Range. From the summit looking south-west the other major ranges dominate the skyline. On a clear day it is possible to see the summit of Peak Communism 80 miles away, at 7495m. the highest summit in the Pamir, and occasionally the Hindu Kush mountains some 140 miles away. Looking north one sees the great Kyzylsu (Red River) Valley, to the east the Chinese Pamir. Peak Lenin is a popular mountain, it is often considered to be the easiest 7000m. summit in the world for climbers since it is relatively accessible and technically straight forward.
25 days, 24 nights