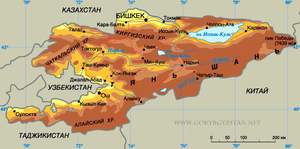 Grade of difficulty: easy
Season: 1st of July - 30st of August
Group: 4 people plus Wild Russia tour leader and support team: English-speaking mountain guide, porters for the food and camping equipment, cook, driver.
Land cost: 4 pax - $2370
Land cost: 6 pax - $2190
Land cost: 8 pax - $2090
Weather:: from + 20 Ñ to -10 Ñ.
Transport: minivan.
The price includes: border area permit, all transfers according to the itinerary, 2 nights in Bishkek 3* hotel, 1 night in Kara-Kol 3* hotel, 1 night at the coast of Issyk-Kul lake in a 2* hotel, FB during the trek, tent and exquipment rent, sattelite phone, GPS navigator and radios for the group, local guides and Wil Russia tour leader.
Note: the porters carry the group equipment only. Porters for the privat equipment are available at the extra charge.

Domestic flight airfare; Over luggage if any; Personal expenses; Tips; Medical insurance are not included.
This is a classic trekking itinerary which shows you all the beauty of Kirgizia. The trek is sometimes called the Kirgiz Swiss. The landscapes you'll see will make you think of Switzerland. The area around the Issyk-Kul lake has the warm humid climat, which allows the variety of colorful flora and fauna. Most of the route goes through the national parks, where you can easily see the golden eagle, the fox or the wild boar. It is also the habitant of the bears and snow leopards.
The mosaic of climat zones and hence the landscapes will make your trek exciting, and the comfortable camping stops will make it easy and pleasant. You'll pass numerous mountain streams, springs and rivers with the christall clear water, which is known for its health-giving power. You'll visit the hot mineral water springs and get the chance to bathe in those.
This itinerary will take you to the really splendid area of our country.
17 days, 16 nights