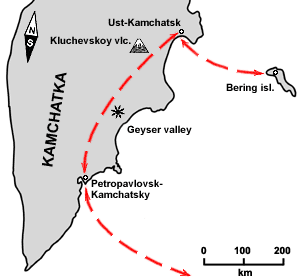 Grade of difficulty: easy (sightseeing )
Land cost: $2950 per person in a group of 6.
The price includes: helicopter charter expenses, insurance, all overland transport expenses on the islands, English-speaking guide service, kitchen crew, all the meals, camp stuff and tents.

Domestic flight (if any) airfare, Russian visa, over luggage if any, personal expenses, tips and medical insurance are not included.
Highlights:
explore preserved wildlife area of the Komandors,
watching the biggest colony of fur seals on the Western Pacific Coast,
experiencing the bird-watching at the important migration spot in the Pacific basin.
visiting the museum of the Regional Studies, the Vitus Bering grave and the other historical places.
The Komandorsky Islands are one of the most preserved areas of the Kamchatka Region. They are included into the Koman- dorsky State Natural Reserve. There are two large islands: the Bering and the Medny and two small ones: the Ariy Kamen' and the Toporkov.

The Bering Island stretches from north-west to south-east for 75 km. The landscape of its northern part is rather smooth and flattened. It's possible to walk along the shore line almost everywhere. The south of the island is mountainous. The island was named after the leader of two Kamchatkan expeditions of the XVIII century, the navigator captain-commander Vitus Bering, who had been living there together with crew of the ship "St. Peter" for 9 months and died of scurvy.

The Medny Island was named after a serving man Dmitry Nakvasin, who had found there a native copper ("medny"- means copper) in 1743. It looks as waves of dark-green slopes in summer and white – in winter, beyond which there are mountains. All these mountains and tundra are surrounded by shore-walls with small bays scattered here and there. On summits of hill-waves there is lichen, below there are berry-fields, rhododendrons. In river valleys there are dense grass and low-growing bushes.

Northern fur seals are undoubtedly the main sight and wealth of the Komandorsky Islands. In late April the first male adults appear on seal-rookeries. Fur seals hibernate near the Japanese Islands and having spent there severe seasons come back to native places. Thousands of them occupy the northern and north-west parts of the Bering Island.

Arctic blue foxes are hosts of the islands. In the southern part of the Bering Island there is a small reindeer herd, which had been brought there from Kamchatka twice before adapted to new food. Rivers of the Islands are spawning grounds for Pacific salmon. The main spawning ground is large Sarannoe Lake. Sea giants or whales inhabit waters along the Komandorsky Islands shores.
5 days, 4 nights