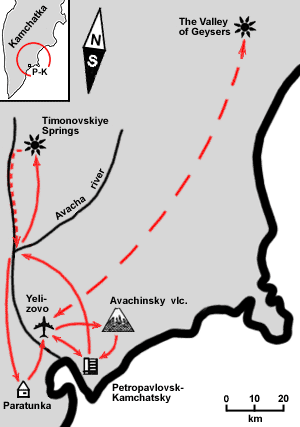 This exciting program has been successfully running for 9 years and would be called "Wild Russia" classic. Practically it gives a chance to experience Kamchatka from all possible angles and by all possible adventure travel activities. We will see the magnificent Pacific from a top of volcano after our 4 hours climb. We will raft a remote Middle Avacha river watching brown bears fishing pink salmon. We will head to the sacred mt.Bakening our off-road vehicle through a lost valley, which would remind Jurassic Park. We will enjoy a swim in the famous Timonovsky Hot Springs, which are in 3 days trek on a horse back from human settlements. And finally we will enjoy the panorama of the Avacha Bay from a sea boat, while catching sea fish for our lunch soup - "ukha".
11 days, 10 nights
Grade of difficulty: moderate
Land cost: $2780 per person in a group of 6 .
Cost of the heliflight to the valley of geysers is a subject to change without a previous notice and for the summer 2012 is expected to be $1550 per person.

The price includes: all overland transfers, 2 nights in hotel "Petropavlovsk" (room share), 4 nights in tents, 2 nights in a resort "Helios", 2 night in a resort near Timonovskiye Hot Springs, service of local guides on the trek, kitchen crew, national park fee, restricted area permit, all the meals when not in the city and breakfasts in P.-K., camping stuff.

Domestic flight (if any) airfare, Russian visa, over luggage extra charge if any, personal expenses, tips and medical insurance and the heliflight in the valley of geysers are not included.
Highlights:
off-road drive through a "Jurassic Park",
the heliflight to the Valley of Geysers,
floating down a remote river with lots of brown bears around,
visit Timonovskiye Hot Springs near the sacred mountain Bakening,
a sea boat cruise around the Avacha Bay, experiencing sea fishing,
ascent to the Gorely volcano with its unusual crater's lakes.