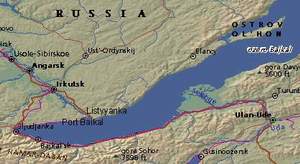 Grade of difficulty: moderate
Season: June to September
Group: 6 - 10 people plus Wild Russia tour leader and local guides
Land cost: 6 pax - $950 per person
Weather: daytime+ 25-35 Ñ, night +15-25 Ñ.
Accommodation: during rafting- comfortable tents, in Listvyanka - wooden cottages.
Transport: minivan
Guides: local support team and Wild Russia tour leader

The price includes: Wild Russia Tour leader, local guide service; All transfers according to the itinerary; Accommodation B&B; Full board during hiking/rafting, breakfasts in Listvyanka; Rent of rafting and camping equipment; Museum entrance fee and excursion.

Domestic flight airfare; Over luggage if any; Personal expenses; Tips; Medical insurance are not included.
Irkutsk - upper reach of Irkut river - Sludyanka - Listvyanka - Irkutsk
This trip combines several activities - rafting down Irkut river, hiking in Sayan mountains, Round Baikal Railway excursion trip and Lake Baikal sightseeing in Listvyanka.
Active part of the trip starts with 1 day hiking at mountain plateau with a number of glacial lakes near Mongolian border. It is a junction of several mountain ridges - Tunkinskii, Kitoiskii and Bolshoi Sayan.
Irkut river heads from alpine meadows under Munku Sarduk - the highest peak in East Sayans (3491 m or 11450 ft asl), and flows in Angara river in Irkutsk city. Rafting down upper reaches of Irkut is not difficult but the river runs fast and rapids are numerous though not dangerous. The river winds among steep rocky sides of Tunkinskii ridge.
After rafting you will travel down Round Baikal Railway which is another highlight of the Lake Baikal. This railroad is a masterpiece of road construction — built in the end of 19 century, it cost more than any other Russian railway and became one of the most famous railroad constructions. 90 km of it contains 38 tunnels, numerous galleries, bridges and viaducts.
At last you arrive in Listvyanka that offers a wide range of activities - visiting local museum and St Nicholas church, exploring local fish and souvenir markets, hiking and Lake Baikal sightseeing.
7 days, 6 nights
Note: the program is indicative only and may be customized according to your preferences