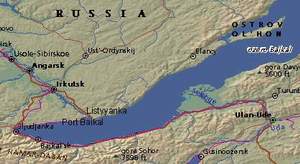 Grade of difficulty: easy
Season: June to September
Group: 2 - 10 people
Land cost: 2 pax - $1 570per person
4 pax - $1080 per person
6 pax - $1060 per person
8 pax - $980 per person
Weather:: daytime +25-35 Ñ, night +15-25 Ñ.
Accommodation: ger camp in Olkhon island, cottage in Listvyanka, hotel in Irkutsk.
Transport: minivan, motor boat
Guides: local guides

The price includes: Wild Russia Tour leader, local guide service; All transfers according to the itinerary; Accommodation B&B; Full board during hikig/rafting, breakfasts in Listvyanka; Rent of rafting and camping equipment; Museum entrance fee and excursion.

Domestic flight airfare; Over luggage if any; Personal expenses; Tips; Medical insurance are not included.
Irkutsk - listvyanka village - Olkhon island - Irkutsk
Olkhon island is a focus of everything that is typical for the Lake Baikal. The island is suitable both for leisure and outdoor activities - in summer it is usually sunny, and the water in Little sea (strait between the island and mainland) is warmer then anywhere else in the lake. Wonderful sand beaches make Olkhon island a popular destination for tourists. If you do not feel like this "passive" pastime, you can make a canoe trip or go hiking or horse riding to its south rocky coast which is more wild and difficult to access.
7 days, 6 nights
Note: the program is indicative only and may be customized according to your preferences