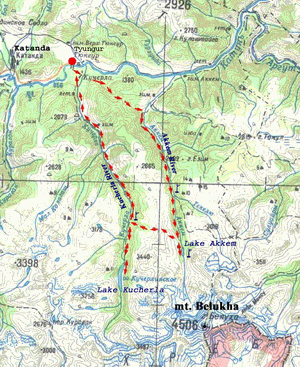 Grade of difficulty: moderate
Season: July to September. The best time to visit is July -August.
Group: 6 pax
Land cost: 6 pax $1240 per person
Weather:: +15 +25 C, continental climate, occasional rains up the valleys.
Accommodation: during trekking - comfortable tents, on the way - comfortable lodges, in Barnaul - hotel.
Transport: minivan, horse.
Staff: horses with Russian cavalry saddles, 2 wranglers, luggage horses, trek leader, kitchen crew, interpreter.

The price includes: all the meals, accommodations, transport, horse rent, wranglers and guides services, interpreter, tents en route, camping and kitchen stuff.

Domestic flight airfare; Over luggage if any; Personal expenses; Tips; Medical insurance are not included.
Real feeling of nomadic life and understanding of ancient local traditions in this remote corner the most mystic and spiritual place in Russian Asia and Siberia. Russian philosopher Nicolas Roarich, famous as a founder of a new religion, believed that the Altai was the place of the sacred Shambala.
12 days, 11 nights
RECOMMENDATIONS: no special riding skills are required, medical injection against enciphalitum is strictly recommended.