Training in Scotland
As explained on the Homepage, training was conducted in Scotland with the result of press interest in Edinburgh and Glen Coe. The training involved one week in the Cairngorm Mountains which included snow and ice techniques as well as cross country skiing. Teams stayed in Grantown-on-Spey during this week at the Ben Mhor Hotel and Ardenbeg Outdoor Centre. The Teams then moved to Kinlochleven in Glen Coe to conduct training with the Glen Coe Mountain Rescue Team. This included the use of helicopters from the Royal Navy Search and Rescue organisation.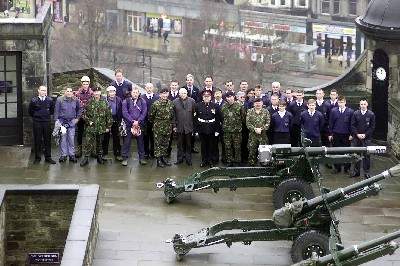 Financial support from the MOD ensured that the joint exercise in Scotland was able to proceed. The result was that mutual understanding between the Russian and British Teams was able to be established. This will ensure that the planned Expedition in Siberia will run effectively.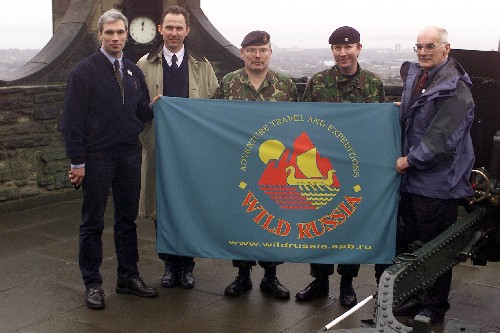 Representatives from ORT, NTV, RTR and ITAR-TASS have visited Glen Coe on Tuesday 13 February 2001 to report on a joint exercise between EMERCOM and the Glen Coe Mountain Rescue Team. This exercise will be supported by Royal Navy Search and Rescue helicopters. This exercise was also covered by Scottish TV (STV) and ITN as well as the local Scottish press.
On the last week of excercises several climbs have been done by joint teams of Brittish soldiers, Russian Emercom members and Glen Coe MRT members. During the excercises the MRT, RLC, Emercom and Navy Seeking helicopters have been working together on elements of mountain rescuring. On Friday 17th the MRT invited everyone for the final party at the Clacheig Inn.
On February 18th the teams left Glen Coe back to Edinbourgh.
Click here to see more pictures from the visit.
More news is coming ...
Any enquiries or comments can be sent to Major Tim Smith at tim@smitht11.freeserve.co.uk