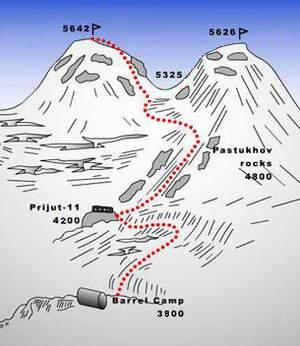 Grade of difficulty: IFAS PD- (NCCS III; RUS 2A; 35-40°; 1540m)
Season: July to September
Land cost: $1490 per person in a group of 6 .

The price includes: hotel accommodation in the valley, based on two persons in room, 4 persons in the "Barrels"; dinners and breakfasts in the Valley and all meals in the Barrels; professional English speaking guides on the ascent; OVIR registration in the valley; airport transfers and all transportation in the valley; all the cable way lifts according to the itinerary; local mountain rescue team support during the ascent; mt.Elbrus national park fee; Russian visa support.

Accommodation in Moscow/St.Petersburg; flight Moscow/St.Petersburg - Mineralnyie Vody; single supplement; mountaineering gear for ascent are not included.
From time immemorial the majestic Elbrus attracts many people. Locals named it Mangitau - the mount of thousand mount heights. As an extinct volcano, it is built up from granits, gneisses and volcano rocks - tuffs and diabases. Western Summit is 5642 m height and Eastern Summit is 5626 m. Mainly the slopes of Elbrus under 4000 m are gentle and become steep higher, up to 35 degrees in average. It provides a great opportunity for climbing in Russia.
The temperature change during a day is pretty high in valleys - 19-20 C. The humidity is about 67-70%. Usually weather below 3000 m is calm and it is very windy up the hills (sometime the wind reaches 15 m/s at the "Prijut Of 11").
For the first time Mt. Elbrus was conquered by a Caucasian in 1829. The first Europeans reached the summit were English - Duglas Freshfield and his friends. It has happened in 1868. Since that time it became a very popular destination for mountaineering as well as hiking in Russia.
This is the special itinerary that allows to ascent mt. Elbrus with the best possible acclimatization. The base for the ascent is the Barrals mountain hotel.
10 days, 9 nights